Summary:Not long ago, The Verge published an article called The many escapes of Justin Sun, this investigative piece on Justin Sun discloses a long string of decisions and actions by Sun throughout the years, including how he managed to manipulate the market and escape regulations in both U.S. and China.We talked to the journalist behind this piece, Chris Harland-Dunaway, to discuss his experience as an independent journalist. Chris shared many things, including the obstacles to bringing this piece to the public, and Justin's unique existence.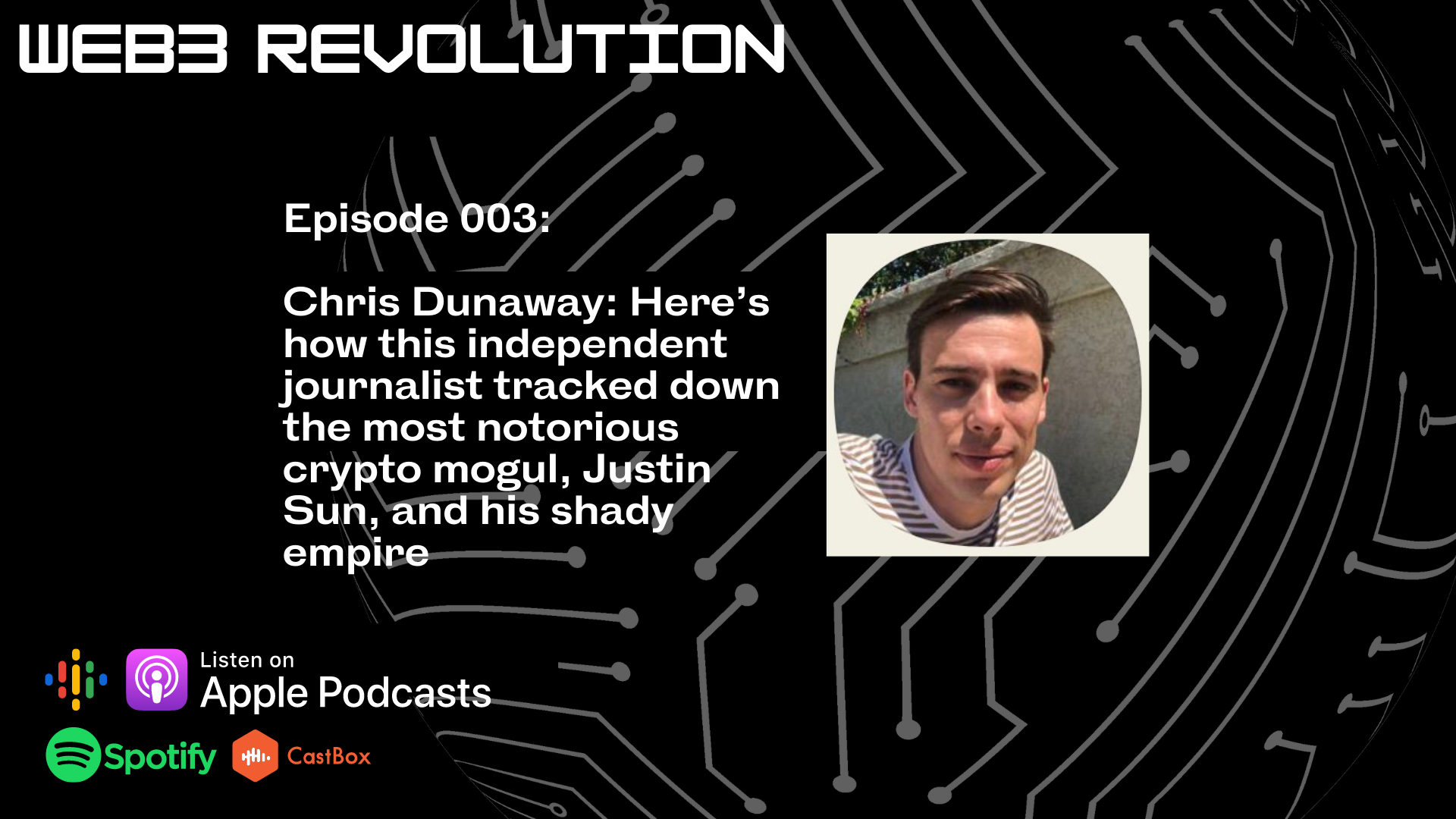 Panelists:Chris Harland-Dunaway (@ChrisHDeee)
Host:Hana (@hanachanweb3)
Post-production:Waylen Roche (@WaylenRoche)
Episode breakdown:
1:11 Who's Justin Sun?
4:17 Who Chris chose to write about Justin Sun?
8:19 Investigating Justin Sun is a daunting task. How to talk to people who were traumatized by Justin Sun and his companies? Retiatation?
12:22 Chris and his team in Verge received legal threats from Harder LLP (hired by Justin Sun). It is the law firm is famous for suing Gawker and representing Harvey Weinstein.
15:58 How to interpret Justin Sun's existence and his fandom? Leveraging memes, nationalism, and self-deprecation?
22:30 How did Justin Sun wrap himself with different flags. And is Justin Sun over-representing the Chinese crypto entrepreneurs?
29:00 Will FBI and SEC could be making an example out of Justin Sun?
33:00 Did Justin Sun misunderstand the diplomatic immunity he acquired? Will this diplomatic immunity "protect" him?
38:04 Street rumor #1 - is Justin staying in HK gambling all day? Let's talk about his incredible risk tolerance…AND…how much money is he moving around???
42:07 Justin Sun revised the classic "escaping" route?
45:08 Justin Sun, a person who speaks so much about the crypto hype, the speculation, the bubble, the worst part of this industry. What's the progress of his charges in the U.S.?
Links
Tron founder Justin Sun and his many escapes: www.theverge.com
About Web3 Revolution:A podcast that dissects the web3 revolutionTwitter/Media bio:Follow us on Twitter @RevolutionWeb3