Summary / 内容总结:
当房间中的大象挤压到了一切的华语创作空间,Web3是否能给我们一个机会,让华语创作者们在自由创作的时候也不发愁生计问题? 这期我们和Web3内容创作平台Matters.news的创始人张洁平聊了聊她多年来所维护的那个时空——现在以Web3的形式呈现。
Matters.news 是立足去中心化生态建立的,一个代码开源、创作者自治的写作社区。创作者可以在这裡写作、发表、阅读、讨论,同时,为社区建立"共同生活、共同决定"的规则,未来进一步应用到去中心生态的其它社区。
As the elephant in the room squeezes everything out of the Chinese creative space, can Web3 give us a chance to make it possible for Chinese language creators to make a living without going against their values? In this episode, we talked to Jieping Zhang, the founder of Matters.news, a Web3 content creation platform.Matters.news is a decentralized ecology-based writing community with open source code and creator autonomy. Creators can write, publish, read, and discuss here, while establishing rules for the community to "live together and decide together", which will be further applied to other communities in the decentralized ecosystem.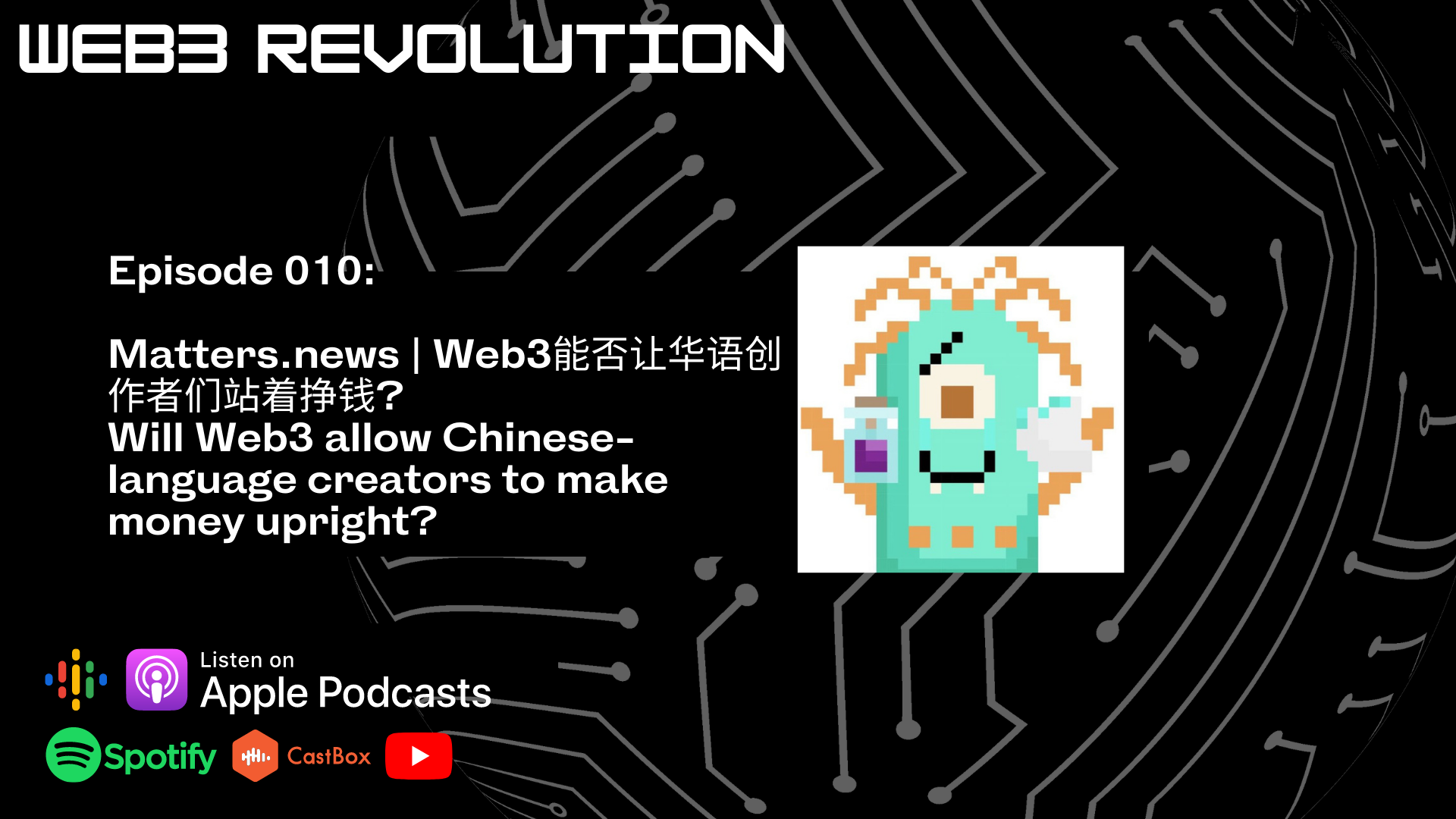 Featuring Guest / 嘉宾:
Host / 主持人
Post-production / 后期制作:
Alice Fang
Contributor / 内容贡献者
Episode breakdown / 时间轴:
00:52 谁是洁平?
04:09 Matters 是一个怎样的创作者平台?Matters 的社群是怎么样的?
07:13 Matters 的取名逸事——社群起名为"马特市"
09:14 洁平的选择:专业媒体从业者从传统华文媒体走向去中心化内容发布平台
16:51 牛熊市转换间,华文创作者的喘息之地
21:06 透过 LikeCoin 的打赏网络形成 social graph
25:33 Web3 世界里,人人都是创作者——Matters 创作者的自我社群构建
33:31 作为 Matters 创作者的收益基本水平
34:56 Matters "围炉"计划—— Web3 场景中的变现计划
41:29 Matters 生态的 Travelbloggers NFT 计划的诞生——马特宇宙的征途实验;以及马特宇宙这个共创故事如何变得越来越丰富?
50:44 Matters 与 Mirror 这两个去中心化创作平台的对比
58:55 Matters 非虚构写作奖学金"在场"
1:00:04 从虚拟空间回到现场——"飞地"书店
00:52 Introduction of the guests
04:09 What kind of creator platform is Matters.news, and what does the Matters community look like?
07:13 Matters' naming story - the community named itself "Matt City"
09:14 Jieping's career choice: from a journalist to the founder of a decentralized content distribution platform
16:51 A respite for Chinese language creators between the bull and bear market shifts
21:06 Forming a social graph through LikeCoin's reward network
25:33 In the Web3 world, everyone is a creator - the self-building community of Matters
33:31 The basic level of earnings as a Matters creator
34:56 The Matters "huddle" program - a plan to enable monetization for creators
41:29 The birth of the Matters Travelbloggers NFT program - an experiment
50:44 Matters versus Mirror
58:55 Matters Nonfiction Writing Fellowship "Presence"
1:00:04 From virtual space to IRL - the Enclave Bookstore in Taipei
About Web3 Revolution / 关于Web3 Revolution:
Web3 Revolution is a bilingual podcast that explores the Web3 space, connecting participants, actors, innovators, investors, and KOLs at the forefront of the Web3 social experiment through conversations.
Web3 Revolution 是关于一档探索Web3领域的双语播客,通过对话,联结在Web3这场社会实验中最前沿的参与者、行动者、创新者、投资者、KOL们。
Twitter/Media bio / 推特和媒体链接:
Our Linktree: linktr.ee
Follow us on Twitter @w3revolution_io
Read English language transcriptions, please go to Medium
阅读中文转写稿,请点击我们的Matters主页