我设计的《哈尔滨毛衣》图解发布啦!大家可以在我的爱发电电铺里找到~为了庆祝图解发布,这期我做了一个动森联动特别集,领大家游玩我的哈尔滨主题的动森小岛,看一看哈尔滨毛衣上图案的灵感来源~欢迎你通过梦境来我的小岛游玩~也欢迎你在现实中也织一件哈尔滨毛衣!
中文版 00:00
英文版 12:58
部分英文文稿见最下方(字数限制无法发全文,全文请见爱发电上的这篇文章)。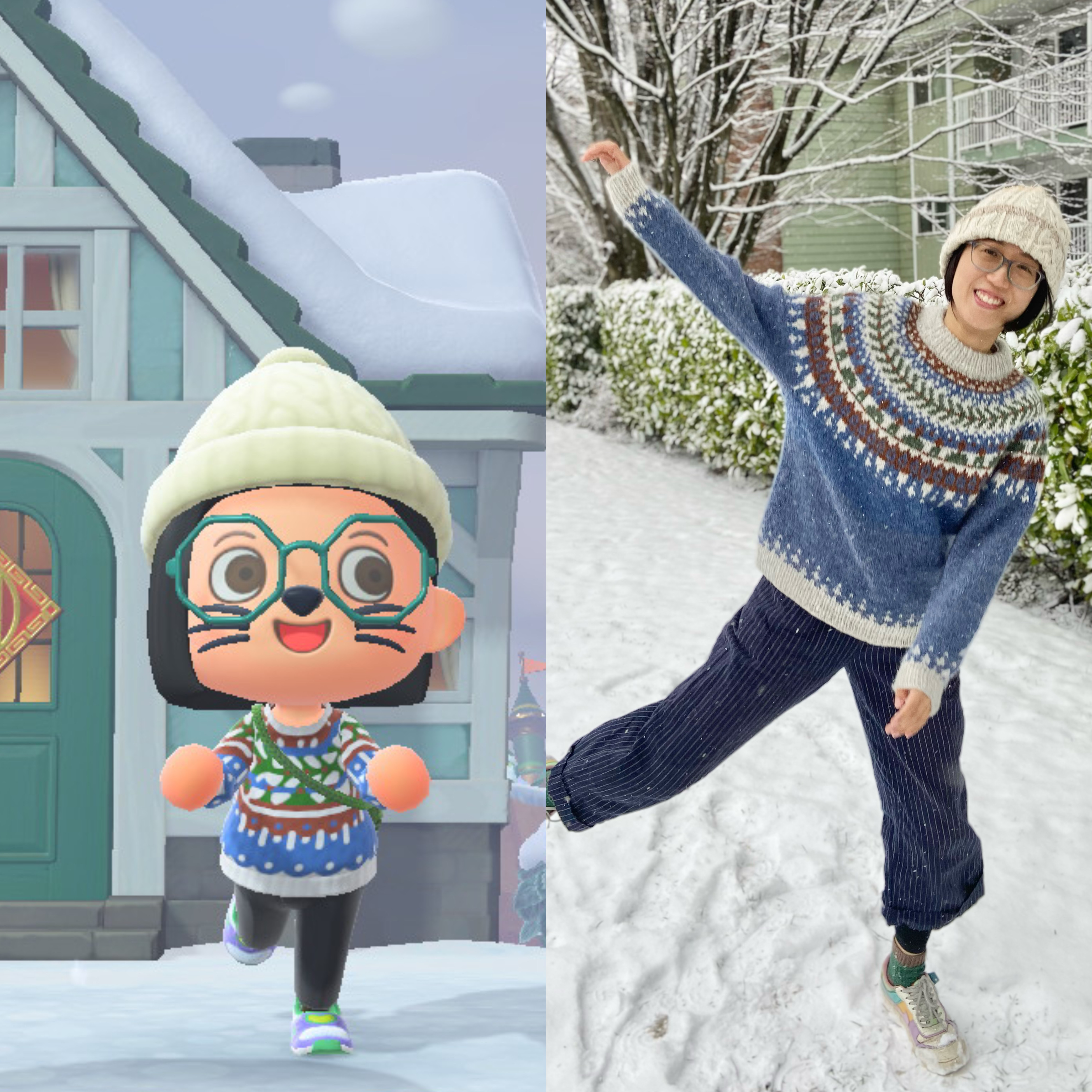 【主播/剪辑】小禾
【其他平台】
b站频道:小禾唠编织
爱发电:小禾唠编织(打赏赞助+购买图解+加入唠嗑群)
小红书/ins:sd_athena
Ravelry: Athena Liu
英文文稿
Hi there, my name is Athena. I'm a knitwear designer and a knitting podcaster. And this is a very special episode where I will be hosting you on my Animal Crossing island! As you know, I have designed and published this pattern called the Harbin sweater inspired by my hometown, Harbin, in north-eastern China. And guess what, before I became a knitter, I was a heavy Animal Crossing game fan, and I spent hundreds of hours recreating my hometown, Harbin, in the game. And recently I have also designed this sweater in the game so that my Animal Crossing character could wear the sweater too. So today, I'd like to take you to my Harbin-themed island and give you an island tour! So let me pass the stage to my Animal Crossing character and let her start today's episode!
Hi there, welcome to my the animal crossing edition of my knitting podcast. Before the island tour, I'd like to make a small announcement that my Harbin sweater knitting pattern has been released! You can find it on Ravelry as well as my Ko-Fi shop. The link are provided in the description below. There will be a 15% off introductory discount in the first week of release and no coupon code is needed. This sweater is a top-down round yoke sweater and is not too hard to knit. Although there are four colours used, you would only knit two colours per row, so it can be a good beginner project for colourwork garment knitting. The motifs on the sweater are inspired by common sceneries in my hometown Harbin, and I will point out those sceneries during today's visit on my island. If you are not a knitter, you can also wear this sweater in the game. Here are my designer code, and you can download this sweater design along with a few other Harbin-themed designs by me to your game.
First, let me show you the map of my island. You can find the dream code below and visit my island through a dream. You can also download my sweater designs during your dream visit. There is a river running through the island, and that is the Song Hua River, which is a famous river in my hometown. The locations of different sites on my island were built according to the actual geographical locations in Harbin. So let's start today's visit at the airport on the southwest corner!
Hello everybody! Welcome to Harbin Island! The first tourist site you see is the street food market. You can find the delicious fried noodle pancake here, Kao Leng Mian, the crispy layered pancake, Shou Zhua Bing, and the sweet sour fried pork called the Guo Bao Rou, which is my favourite local dish. Behind the street food market, there is an arcade bar. And then on the left, there is a sauna hotel, which is a common recreation place in my region.
Now let's change into a school uniform and visit the Harbin No. 3 Middle School. And this was the high school that I went to. It features the traditional Chinese style architecture which is quite interesting. On the right side, I recreated my high school classroom. Some students on the last few row are playing boardgames. I recreated the school uniforms, too.
On the left side, I recreated the lab classroom. You can find all kinds of experimental equipment and some insect specimen here.
The main building is Leopold's house. He is a teacher and his home is actually a classroom. Also he looks like my high school deskmate so I've been quite fond of him.
Let's leave the classroom and arrive at the playground. In winter, schools in my region always turn the playground into a skating rink, and our PE classes became skating classes. I put a shoe rack here so that students can change into skating shoes. On the other side, there is a basketball ground and a gym. There is a ping pong table, too. I used to take table tennis classes in high school. Let's go to the left and we arrive at the cafeteria. I used to like the spicy noodle soup in the cafeteria, so I put a spicy noodle soup booth here.
Let's go to the north, across the Song Hua river, and we arrive at the Tai Yang Dao, which literally translates to Sun Island and is a famous tourist site in Harbin. And further north there is a small cafe and the squirrel Marshal's house. The Sun Island is known for being a natural habitat for squirrels. This pavilion is called Shui Ge Yun Tian,which is another tourist site on the Sun Island.
This clip was taken on another day, so the weather is a bit different. But I want to show you the museum. There is a real dinosaur's fossil in the provincial museum in Harbin but here I put a few more, just because, why not.
……